Monday 18 April, 2011 | By Edo
If you live in the NYC/NJ/CT area and have your ear to the ground in the automotive scene, you've surely heard of TSE, aka Tri-State EVO. A Mitsubishi Lancer Evolution car crew that has existed in this scene since the day Mitsubishi decided to bring their beast state side. If it wasn't for this one brand, and one car, most of the members of this club, whom now consider each other as family, would have probably never met otherwise. Being that this club wouldn't exist had it not been for Japanese engineering and innovation, TSE felt the need to do something after learning of the shocking tragedy that took place in northern Japan. What could TSE do? Well, a car show of course! What better way to raise funds to donate to charity and get the community together to appreciate Japan? And so it was done on a beautiful Sunday in New Jersey at the TSE Help Japan Car show.
One of the most vocal members of the club, Howard. Who's married to a Japanese wife, a proud father, and most definitely a proud owner of an EVO IX and an immaculate Starion. Maybe one day we'll show you his amazing Mitsubishi shrine…
Rich's infamous EVO X MR. One of the more extreme EVO X builds in the Tri-State Area. You can often find him yelling at the stance crowd, "I know! I know! It needs a drop! Hipermax are on the way!". Take your time Rich. Your car is looking awesome!
What the? Hellaflush in the east coast? Our roads are definitely not Hellaflush friendly! Hey we don't even say "Hella" out here! The stance scene continues to grow as you can see. This EVO IX showed up a little late but that didn't stop us from loving it. Haters yelling to lower it in 3, 2, 1…
The Do-Luck trunk is one of the best aero mods for the X. So simple yet so effective. What's that car next to this X? Oh, thats right, a couple of Nissans came through to represent and donate to the cause. This super clean G35…
…as well as this immaculate Nismo 370Z…Turbo! What a beastly looking machine. Fits very well with the aggressive looks of the EVO's.
The Nissans weren't the only non Mitsubishi supporters. This ultra rare 1982 Corvette C3 Crossfire Injection came out to show love for Japan. What a car.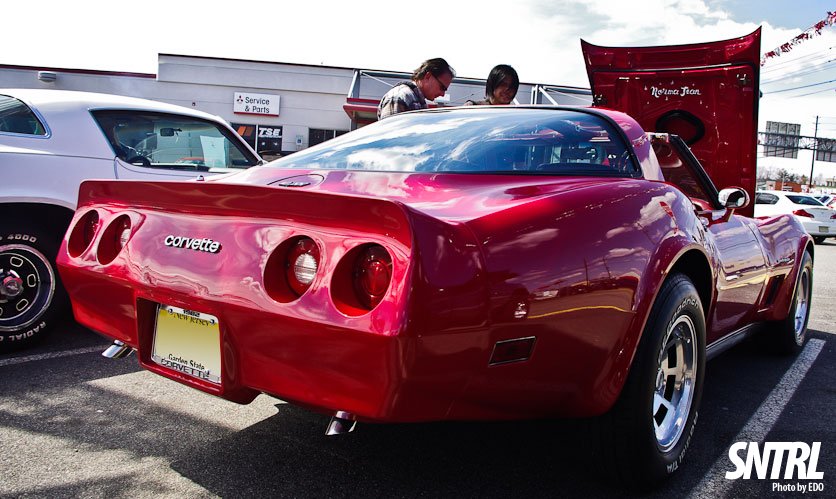 Best in show went to our buddy Won-Chan and his amazing EVO X MR Touring edition. So much has been done to it and there is so much more to come.
In the end, the TSE Crew managed to raise a considerable amount of funds to donate to Japan. TSE drives Mitsubishi's with pride. The desire to represent a brand, own a specific car, and tune it with your friends will create experiences that may not only improve your life, but the lives of others. As we strive to make our lives better, please never forget our friends in Japan and around the world that may need a small donation or two.
COMBO BREAKER!!! We spotted this awesome GRB at Mitsuwa afterwards, had to snap a couple shots, don't get mad TSE!
More eye candy below. Shout out to TSE for the good times!