Wednesday 08 July, 2015 | By Clive

The first time I saw this S2000, I knew a closer look was warranted. In a world that is dominated by Rocket Bunny, and over fender add-ons This S2K stands apart….A WORLD APART. Not that I have an issue with Tra Kyoto, and their ever growing theme of Rocket Bunny everything. It can be a breath of fresh air to see someone go wide in the more traditional route.  For years, there was not much of an option for import owners wanting to widen the body of their car.  Well, other than the chintz Wings West kit of yesteryear. Yes, I am old enough to admit, I once clamored for the WW wide body and a 9 piece under body neon kits. That's a whole another story, for another day.
Lance, the owner, of this crazy S2K is a straight up car guy! As a kid, Lance became fascinated with the import world watching his older cousins wrenching on Civics. So naturally, over the years the RSX Type S, was the target of Lance's obsession. In a moment of clarity, he realized that the RSX would become common, as common as the Civic or the Integra.
That's when it hit him…..the S2000.
At the time, ten years ago, the S2K wasn't seen all that often, it was the car that Honda fanboys dreamed about. Once, Lance acquired his first S2K it quickly became the benchmark for every car he has driven since.
And rightfully so, front engine, rear drive, and Honda's excellent handling; can do nothing but make your appreciation grow for the car.
This is Lance's second S2000, the first one was sold to make way for an E46 M3.
Another driver's car, and arguably the last real drivers M3.
Not even the engineering of the M3 could fill the void, Lance was longing for the S2000.
Like many of us car guys, Lance decided to return to his roots. He got another S2000 for daily use.
The M3 was reassigned to weekend duty; until the fateful day, his Honda was hit, that trip to the body shop was the beginning of this amazing transformation.
With the help of Nick Phewphad, of NP Autocare, Lance's dream was about to become reality.
Nick refused to skimp; he pie cut the fenders, and quarter panels. Using fiberglass was not an option metal body panels were welded, this far more time consuming, but well worth the outcome. Nick Phewphad, is a true craftsman.
The original color picked for this car, was blue; a blue that is normally adorned by Lamborghini's. Another customer's truck showed, Lance a true blue that he needed. The attention to the fine details is meticulous; much like its inspiration. Lamborghini uses dark gunmetal, which can give the resemblance of Carbon fiber, Lance has done the same with his S2K.  Lance wanted to channel his inner RWB (Raugh-Welt Begriff), with the wide body. Hence the non-stretched, extreme camber look that is ever so popular today.Thank GOD!!!! I am all about expressing yourself but, I am not a fan of the Hella Flush game.
"I went the opposite and did wide-aggressive wheels with wide tires as well. I'm also into the slammed look but wanted the car to still be able to corner hard and be drivable. So, a lot of time and emphasis was placed on function as well as looks. Everything had to be balanced out."
YES!!! Thank you Lance. I couldn't have said it better myself, since the S2K is his daily driver. Drivability had to be at the forefront, until the M3 is back up and running.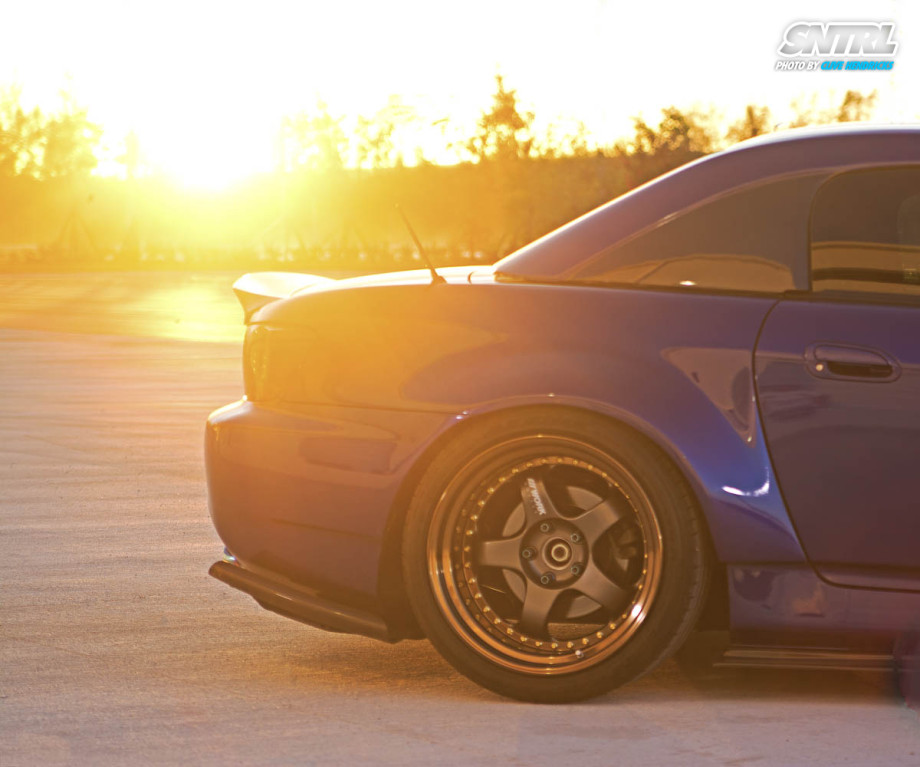 While Lance's mod list is pretty impressive, he still has more plans for the S2K!
Including a wire tuck, shaved engine bay, and forced Induction on deck
With this Honda looking like it does now, I am sure Lance will do nothing but continue to impress with his future mods.
Keep up the good work Lance! We look forward to seeing more of your Honda S2000 in the future.
Lance would like to thank:
"Nick Phewphad and crew over at NP Autocare for all the time and body work done to the car. If it wasn't for his patience and willingness, I don't think I'd have such a unique car."
Mod List:
ENGINE
– GReddy Spectrum Elite Catback Exhaust
– K&N OE-Replacement Drop-In Filter
EXTERIOR
– BMW San Marino Blue Metallic Paint w/Gunmetal Gray Accents
– NP AutoCare Custom Sheet Metal Wide Front/Rear Fenders
– Sorcery Front Bumper
– Shine Auto Project Side Diffusers
– Racing Factory Yamamoto Rear Diffuser
– Mugen Hardtop
– Tamon Design Rear Spoiler
– CarShopGlow Rear Tail Lights
INTERIOR
– HKS Shift Knob
– Full Audio System…
– Pioneer DEX-P99RS Headunit
– 8x Morel MT250 Tweeters
– 2x Morel CDM880 Midrange Speakers
– 2x Morel Elate MW6-Ti Woofers
– 2x Sundown Audio 8″ Subwoofers
– JL Audio 1200w GMAX Subwoofer Amplifier
– JL Audio 600w G6600 6-Channel Amplifier
– JL Audio 600w HD600/4 4-Channel Amplifier
SUSPENSION
– HKS Hipermax IV-SP Coilovers
WHEELS/TIRES
– Work Meister S1 (3pc)
– Anodized Bronze Lip
– Matte Gunmetal Face
– Gold Hardware
– 18×9.5 +11
– 18×11.5 +11
– Falken 453 Tires
– 255/35/18
– 295/30/18
– 25MM Rear Spacers